NA Sponsored Spotlight Event
Open Doors Kids
Open Doors Studio Tour
Visual Art
Poetry/Literary
Podcast/Radio
Film
Live Performance
Panel/Webinar
NA Sponsored Spotlight Event
Open Doors Kids
Open Doors Studio Tour
Visual Art
Poetry/Literary
Podcast/Radio
Film
Live Performance
Panel/Webinar
The Godyssey presents: 'Tran-zen-danz' a group exhibition for #NAF2023
Hosted by The Godyssey
Curated by Chante Dyson & HeZza FeZza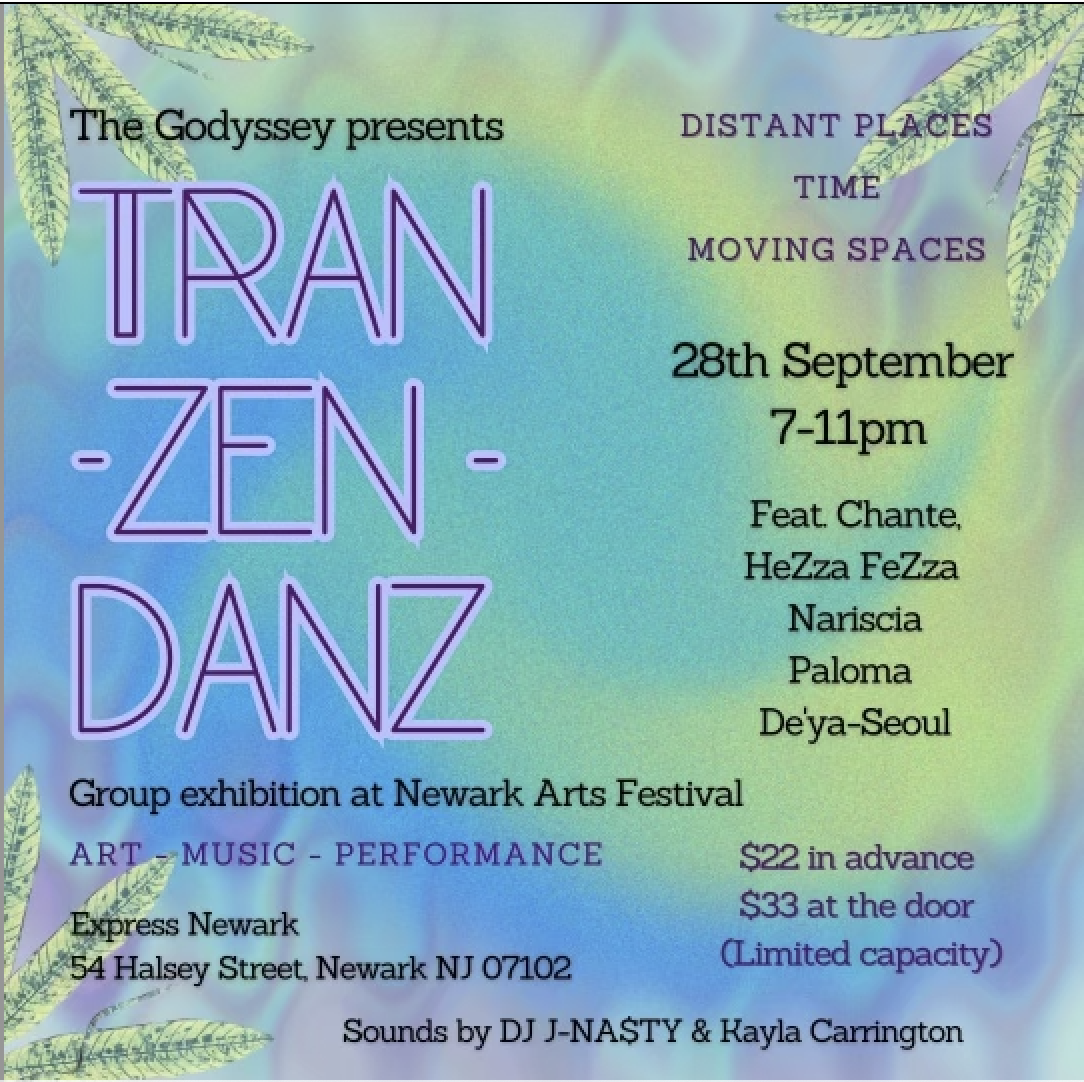 "Distant places, time moving spaces..."
The Godyssey presents a shape-shifting live art, music and performance art piece telling stories of goddess creative power.
Thursday September 28th, 2023. 7pm - 11pm. $22 presale, $33 day of show.
This event is self-produced and has a limited capacity. Thank you for buying your tickets in advance!
This group exhibition features jazz and hip-hop fusion artist Chante, avant-garde pop artist HeZza FeZza, renowned digital + visual artist Nariscia, photographer, mixed media + interpretive dance artist Paloma, and sound healing + dance performing artist De'ya-Seoul. DJ J-Na$ty will be blessing the crowd with the tunes all evening.
The exhibit's co-producers, Chante and HeZza FeZza joined forces in 2020 during the coronavirus lockdown to dream up new worlds and realities for themselves as traveling artists and sisters. They created original music together that takes listeners from Seattle to Paris, although the pair, at the time, were restricted from traveling abroad due to the series of lockdowns in the US.
Now 3 years later in the year 2023, the pair is ready to share the art created during that time with the world, starting in Chante's home state of New Jersey. This is a celebration of divine feminine energy, so it's only right that the pair brought in a few of their artist-sisters who have made a lasting creative impression on them over the years.
The Godyssey curates exhibitions that highlight the magic of goddess creative power, sisterhood and collaboration. The Godyssey's founder, Chante, is a firm believer that when women come together they can create powerful art. This group exhibition is a true reflection of that.
In relation to this year's theme for the 2023 Newark Arts Festival: Celebrating Cross Cultural Perspectives and Hip-Hop's 50th Anniversary, these 5 women are coming together from very different cultural backgrounds and geographic locations to embody their higher selves through sound, movement and creative expression.
The theme 'Tran-zen-danz' speaks to each artist's ability to shape-shift their reality. As creative and spiritual beings, each of them move across time and space to express their divine energy both within and collectively.
Featured Artists: Chante, HeZza FeZza, Nariscia, Paloma, Dey'a Seoul, Kayla Carrington, DJ J Nasty
---
*Covid-19 Protocol: Attendees must wear a mask if they have been exposed to COVID-19 in the past 10 days and are not experiencing any symptoms, and take a rapid test before attending the event. Attendees must stay home if they are currently experiencing or have experienced symptoms of illness in the last 24 hours or tested positive for COVID-19 within the five days leading up to the event.
---
THURSDAY:
07:00 pm - 11:00 pm
7:00 PM: Doors open
7:30 PM: Creative wellness experience pt.1
8:00 PM: Dance performance
8:20 PM: Music performance
9:20 PM: Creative wellness experience pt.2
9:45 PM: Artist talk
10:15 PM: Dance!!