NA Sponsored Spotlight Event
Open Doors Kids
Open Doors Studio Tour
Visual Art
Poetry/Literary
Podcast/Radio
Film
Live Performance
Panel/Webinar
NA Sponsored Spotlight Event
Open Doors Kids
Open Doors Studio Tour
Visual Art
Poetry/Literary
Podcast/Radio
Film
Live Performance
Panel/Webinar
LADY DAY at Emerson's Bar & Grill
Hosted by Arts High School and Progressive Theater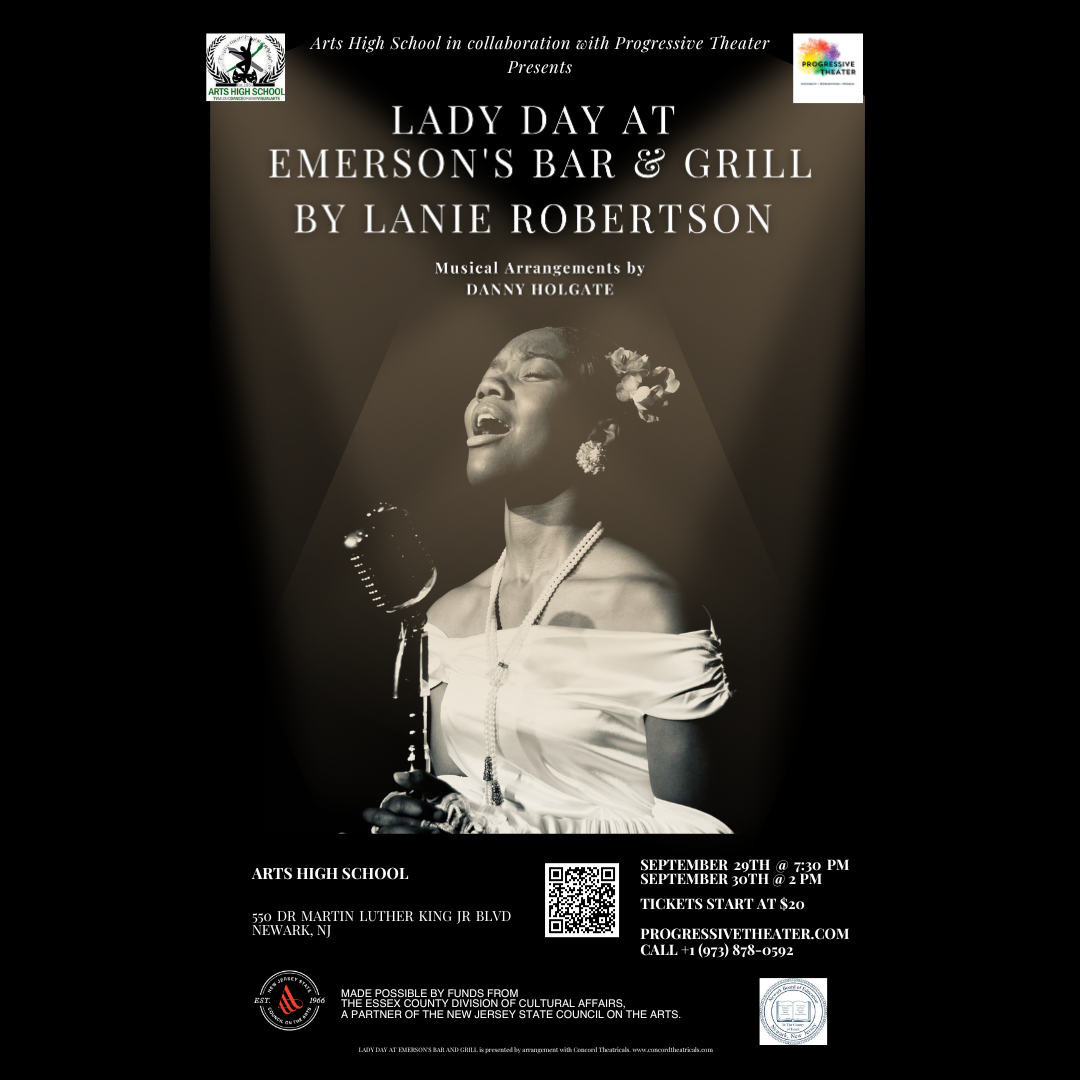 Experience an Unforgettable Evening: "Lady Day at Emerson's Bar and Grill"
Are you ready to embark on a journey back in time and witness the magic of one of the most iconic voices in jazz history? Arts High School, in collaboration with Progressive Theater, invites you to an enchanting and emotionally charged evening with "Lady Day at Emerson's Bar and Grill."
The Setting: A Glimpse into History
Step through the doors of a smoky, dimly lit bar in Philadelphia, circa 1959. The atmosphere is intimate, the air thick with anticipation. You've just entered Emerson's Bar and Grill, a place that is about to become the stage for a legendary performance—one of Billie Holiday's final shows.
The Story: A Captivating Portrait
The heart of "Lady Day at Emerson's Bar and Grill" lies not only in the music but also in the storytelling. You will be transported back to a pivotal moment in Billie Holiday's life, just four months before her untimely passing. Through more than a dozen iconic musical numbers and poignant reminiscences, you will gain insight into the lady behind the legend.
A Word of Caution: Viewer Discretion Advised
This production is a faithful portrayal of Billie Holiday's life, which included struggles with addiction and personal challenges. As such, it contains themes of alcohol and mild adult content. Viewer discretion is advised.
The Origin: A Legacy Production
"Lady Day at Emerson's Bar and Grill" was originally produced in New York by the Vineyard Theatre, marking the beginning of its legacy. Now, Arts High School and Progressive Theater are honored to bring this acclaimed production to Newark, New Jersey.
Event Details: Mark Your Calendar
Production Title: Lady Day at Emerson's Bar And Grill
Dates: September 29th at 7:30 PM and September 30th at 2:00 PM
Location: Arts High School, 550 Dr. Martin Luther King Blvd, Newark NJ 07102
Featured Artists: The Star: Zahra Saud's Mesmerizing Portrayal
Zahra Saud, a talented Arts High School senior, will embody the enigmatic Billie Holiday. Her performance is nothing short of extraordinary, capturing the essence and haunting beauty of Holiday's voice and spirit. Zara recently wowed audiences at Newark Symphony Hall's Benefit, prompting President and CEO Talia Young to declare, "By 2024, you will see this young lady's name on Newark Symphony Hall's Marquee." Don't miss the chance to witness this rising star in action.
---
FRIDAY:
07:30 pm - 09:00 pm
---
SATURDAY:
02:00 pm - 03:30 pm