NA Sponsored Spotlight Event
Open Doors Kids
Open Doors Studio Tour
Visual Art
Poetry/Literary
Podcast/Radio
Film
Live Performance
Panel/Webinar
NA Sponsored Spotlight Event
Open Doors Kids
Open Doors Studio Tour
Visual Art
Poetry/Literary
Podcast/Radio
Film
Live Performance
Panel/Webinar
Light Fractures: NORTHSTAR (Virtual Poetry Workshop)
Hosted by EvoluCulture Ventures
Curated by Attorious Renee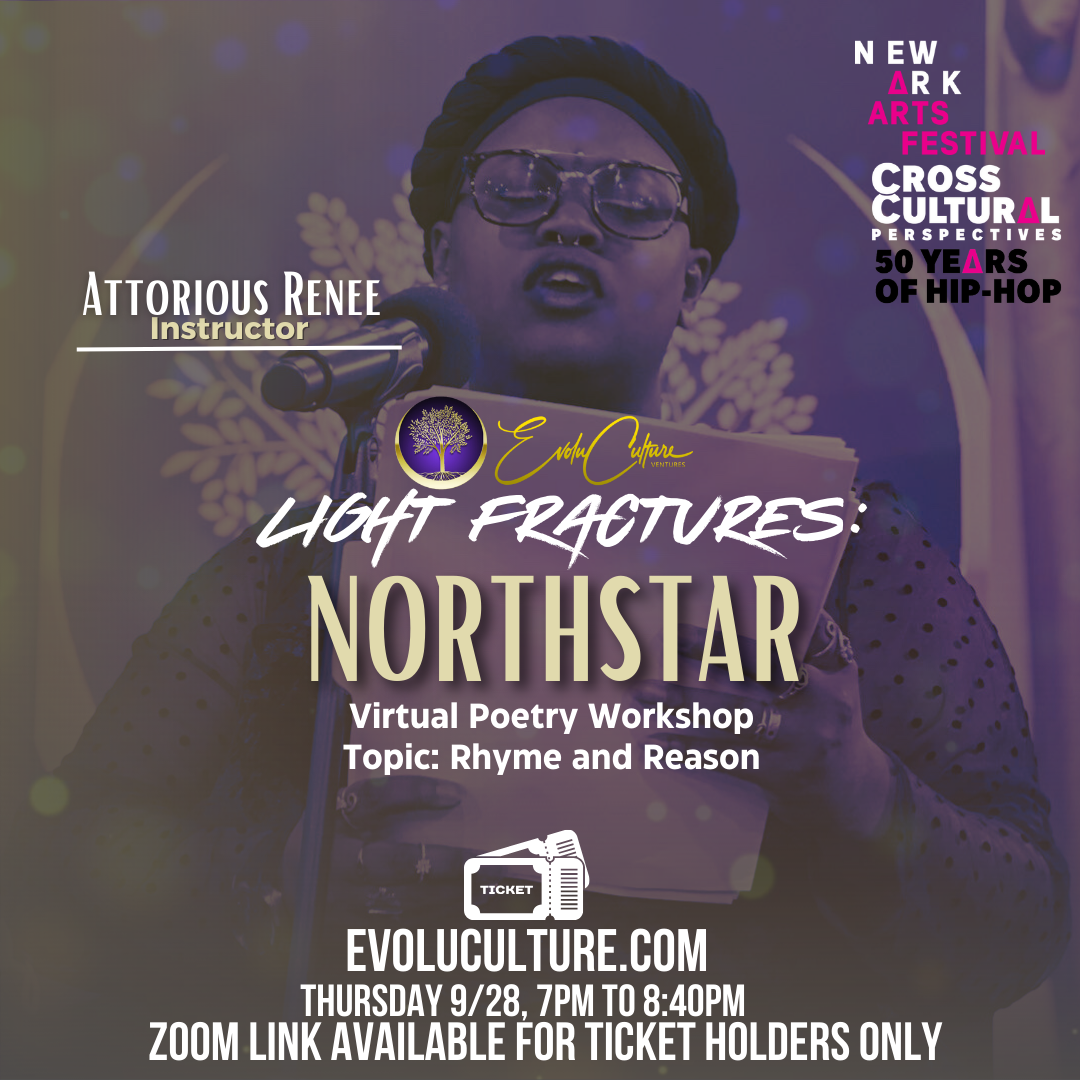 SAVE THE DATE: THURSDAY SEPT 28TH
As part of the 2023 Newark Arts Festival, EvoluCulture kicks off its 9th Anniversary lineup of events with the first virtual poetry workshop under our arts-education branch, EvoluEDU.
NORTHSTAR is the first workshop of the LIGHT FRACTURES Series, curated and led by our Educational Development Director Attorious Renee.
The brightest star in any constellation that's above the North Pole in a fixed position, Northstars are used as reference points in navigation, thus coming to symbolize "direction, guidance, stability, and purpose." (Cambridge Dictionary).
With this in mind, workshoppers will focus on how a poem's "Northstar" is within rhyme and reason: how form and structure, at its brightest, bring a poem to its desired destination.
PLEASE NOTE: This is a VIRTUAL workshop. The Zoom Link will only be given to those who purchase their ticket by Weds September 27th, 11:59PM.
Featured Artists: Instructor: Attorious Renee
---
THURSDAY:
07:00 pm - 08:40 pm
EvoluCulture debuts its virtual poetry workshop series, instructed and curated by it Educational Development Director Attorious Renee.
*Zoom available only to those who purchase their ticket*