NA Sponsored Spotlight Event
Open Doors Kids
Open Doors Studio Tour
Visual Art
Poetry/Literary
Podcast/Radio
Film
Live Performance
Panel/Webinar
NA Sponsored Spotlight Event
Open Doors Kids
Open Doors Studio Tour
Visual Art
Poetry/Literary
Podcast/Radio
Film
Live Performance
Panel/Webinar
GreatFULLness: An Art Extravaganza
Hosted by 3 the Art Way / BlkBoxNwk
Curated by Akiba Ismail / Suliman Onque / John Murray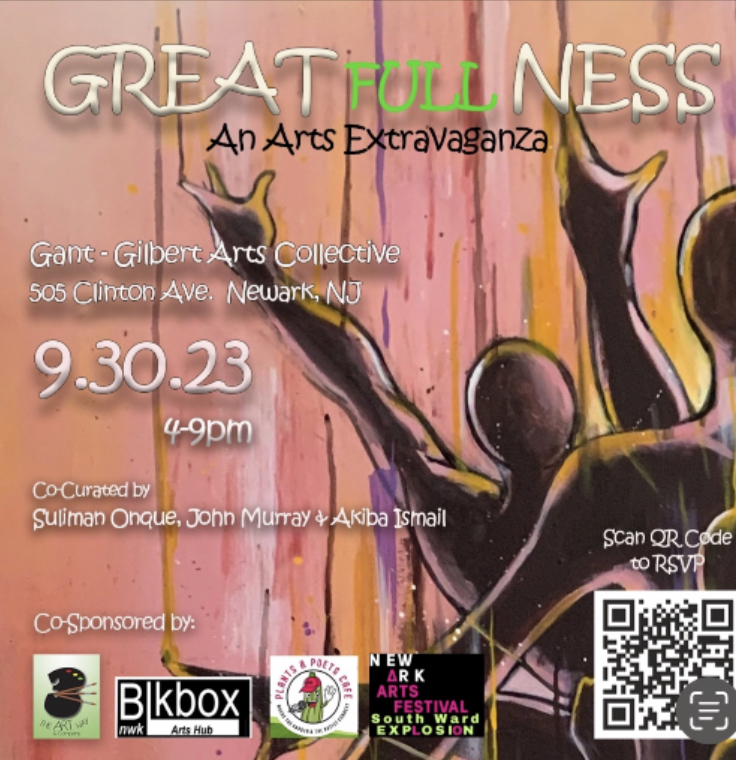 Join us at the Gant-Gilbert Arts Collective in Newark, NJ. Immerse yourself in a world of creativity and inspiration as talented artists showcase their masterpieces. Mark your calendars and join us for an unforgettable artistic journey!
As part of the Newark Arts Festival 2023. Brought to you by 3 The Art Way, BlkBoxNwk & Plants & Poets Cafe.
Curated by Suliman Onque, John Murray & Akiba Ismail.
Saturday, September 30th 2023 4-9pm
Gant-Gilbert Arts Collective
505 Clinton Ave
Newark, NJ 07108
---
SATURDAY:
04:00 pm - 09:00 pm