NA Sponsored Spotlight Event
Open Doors Kids
Open Doors Studio Tour
Visual Art
Poetry/Literary
Podcast/Radio
Film
Live Performance
Panel/Webinar
NA Sponsored Spotlight Event
Open Doors Kids
Open Doors Studio Tour
Visual Art
Poetry/Literary
Podcast/Radio
Film
Live Performance
Panel/Webinar
2023 Fall Exhibitions Opening Reception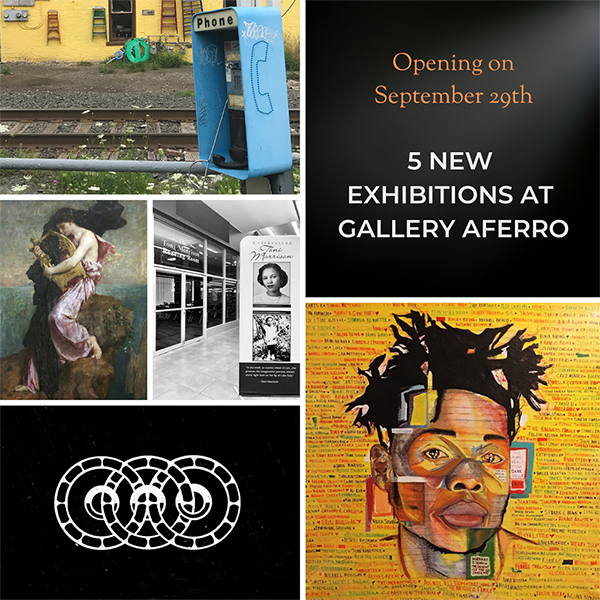 There are five upcoming exhibitions -- three visual, two audio -- all opening on Friday, September 29th, that we are ecstatic for everyone to see!
The three upcoming visual art exhibitions are Public Enemy, the inaugural solo exhibition by current Gallery Aferro artist-in-residence Bleriot Thompson, Onward Upward Towards the Light, the solo exhibition by former Aferro Studios Equity Fellow Anjali Benjamin-Webb, and Dead Ringers: Portraits of Abandoned Payphones, the photo series by Newark-based photographer Amy Becker.
Our permanent audio installations will house two new upcoming sound art offerings this fall. The F*cking Reticence will be our third Poem Booth rotation and one of the writers from this year's Prism Commission, Lynnée Denise, is bringing Lynnée Denise presents Case Studies in DJ Scholarship: Folk, Funk, and Toni from Ohio to Elevator Music.
The free, all-ages event scheduled from 6-9pm will serve refreshments. Join us!
Featured Artists: Bleriot Thompson, Anjali Benjamin-Webb, Amy Becker, Lynnée Denise
---
*Covid-19 Protocol: Due to rising Covid-19 numbers, masks are encouraged, but not required.
---
FRIDAY:
06:00 pm - 09:00 pm
Gallery Aferro visitors will enjoy 5 soul-stirring creative feasts from 6-9pm during our opening reception helmed by incredibly talented established, emerging and unsung artists.