NA Sponsored Spotlight Event
Open Doors Kids
Open Doors Studio Tour
Visual Art
Poetry/Literary
Podcast/Radio
Film
Live Performance
Panel/Webinar
NA Sponsored Spotlight Event
Open Doors Kids
Open Doors Studio Tour
Visual Art
Poetry/Literary
Podcast/Radio
Film
Live Performance
Panel/Webinar
LIVE ART BATTLE! @ The Krueger Mansion
Hosted by CryOut Cave
Curated by Nicole Fowler/Creating Peace Collective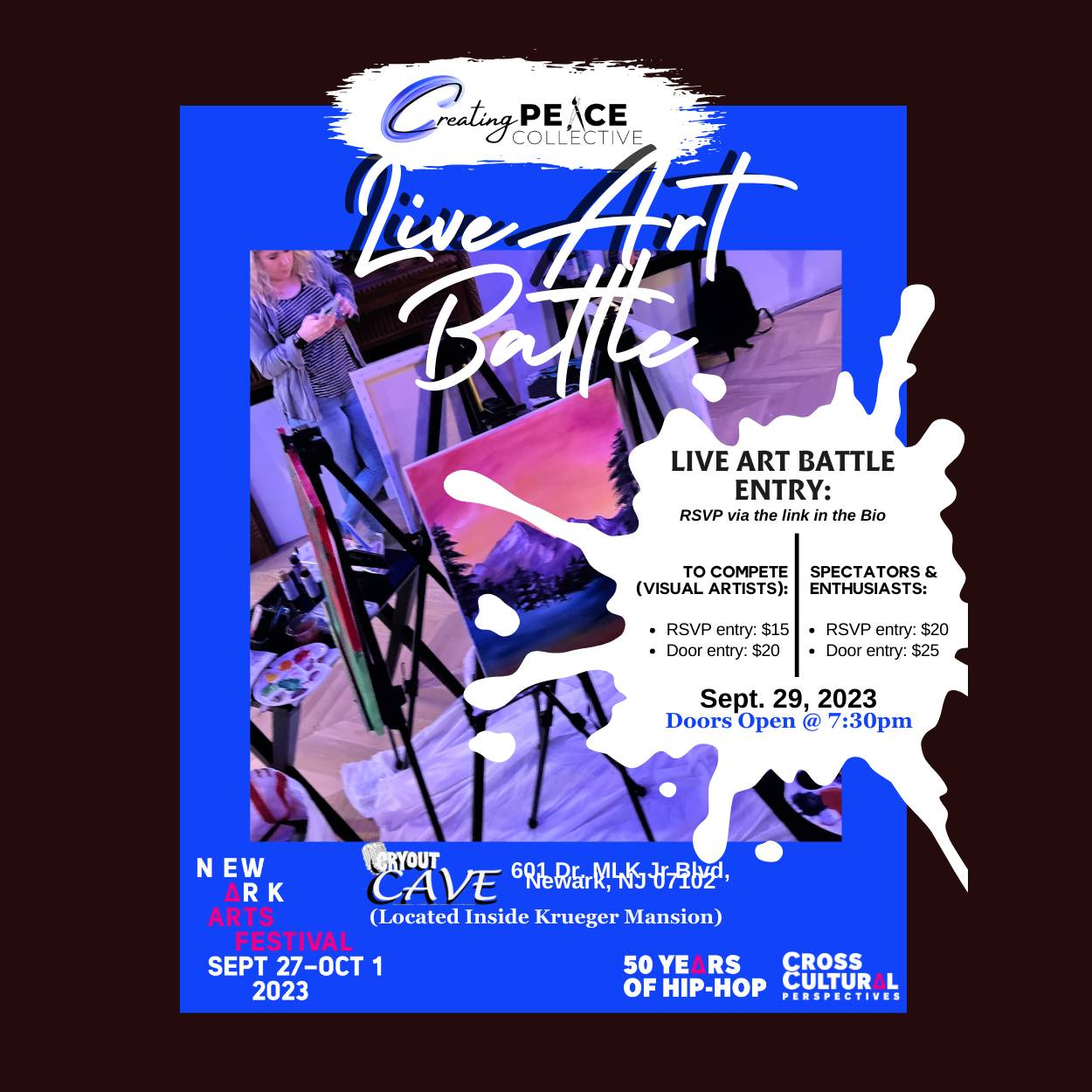 About this event =
Come celebrate the Artist's in our community and connect with people and Art that ignites and energize us!
8 Artists - 3 Rounds - 30 minutes each (10 min sketch grace period)
What's a Live Art Battle?
⁃ An evening of Live Paintings from a multitude of artists, of all skill sets, techniques, and styles!
⁃ Format: 3 rounds, 30 minutes each; and we let the people decide (onlookers/art enthusiasts/our peers, will be encouraged to hype y'all up, feedback, and judge who goes to the next round!
For our fellow Artists and creators:
FREE CANVASES ARE PROVIDED FOR YOU. (WE ENCOURAGE YOU TO BRING YOUR OWN PAINT & BRUSHES)
⁃ 'In-House' paint is provided.
To all the art lovers, supports, collectors, and enthusiasts:
ARE YOU READY TO TAKE HOME A NEW PIECE OF ARTWORK, THAT YOU WATCHED GET CREATED IN FRONT OF YOU?
With their permission = at least one piece each artist creates can/will be yours to take home, through a silent auction, throughout the evening.
Come enjoy watching masterpieces being created, support your local artists, and take something special home with you!
---
FRIDAY:
07:30 pm - 11:30 pm
An evening of Live Paintings from a multitude of artists, of all skill sets, techniques, and styles!
⁃ Format: 3 rounds, 30 minutes each; and we let the people decide (onlookers/art enthusiasts/our p