NA Sponsored Spotlight Event
Open Doors Kids
Open Doors Studio Tour
Visual Art
Poetry/Literary
Podcast/Radio
Film
Live Performance
Panel/Webinar
NA Sponsored Spotlight Event
Open Doors Kids
Open Doors Studio Tour
Visual Art
Poetry/Literary
Podcast/Radio
Film
Live Performance
Panel/Webinar
FLAVA IN FASHION: 50 & Beyond
Hosted by Newark Public Library, Chiffani Brands Unlimited
Curated by Tiffany Salas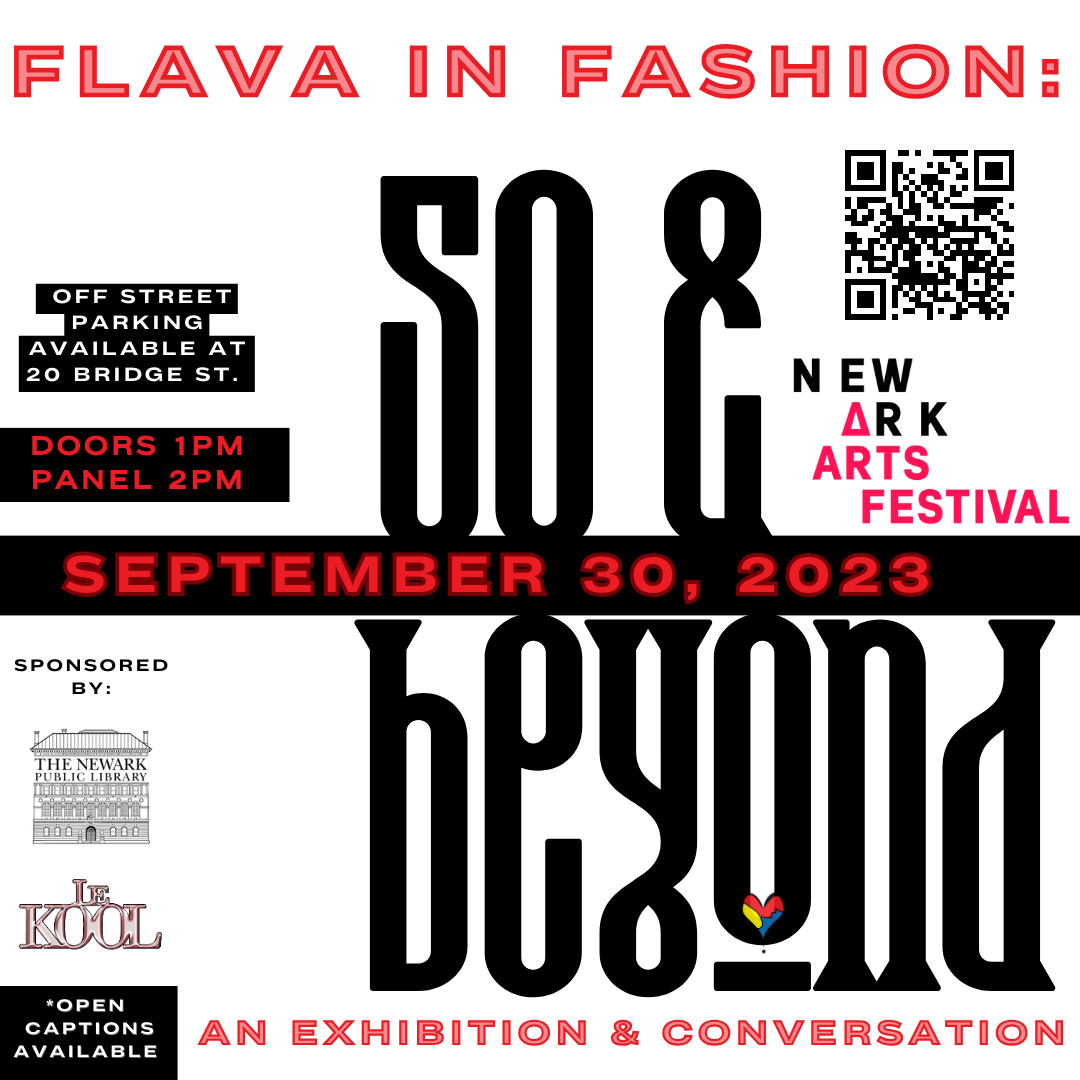 Flava in Fashion: 50 & Beyond is a free exhibition celebrating Hip Hop's 50th Anniversary. Highlighting New Jersey's Fashion Scene during the global genre's early beginnings and its iconic impact on the world. The exhibition will host a Fashion Talk moderated by Sheikia "Purple" Norris with featured guest panelists including Willie Esco of the esteemed Escobar Clothing Brand, heavily popularized during Hip Hop music's rise and a surprise HIP HOP LEGEND. The exhibition is set to open to the public on Saturday, September 30, 2023 from 1pm to 4pm at Newark Public Library's James Brown African American Room. Refreshments and small bites will be available during the opening event, doors open at 1pm with a live band and DJ to welcome you. The panel will be held from 2pm to 4pm. The exhibition will be open to the public through Sunday, October 1st and will be a stop on the Newark Arts Festival lineup. Don't miss your chance to experience HIP HOP- JERSEY STYLE! Free off street parking is available until 4:30pm at 20 Bridge St.
Curated by Newark Artist & Celebrity Wardrobe Stylist Tiffany Salas.
Special Thanks to our Sponsors: Newark Public Library, Le Kool Champagne, Swahili Village, Chiffani Brands Unlimited
Fashion Theme: HIP HOP!
Open Captions and Free Parking in Accessible Lot at 20 Bridge St.
Featured Artists: Tiffany Salas, Willie Esco, Pink Dragon Artist Syndicate, Jerry Gant, Empress Madinah Ali, Sheikia Purple Norris, The Artist Recreates The World, Roc & The Collective, Chiffani Brands Unlimited, The Gold Standard Productions, Marco Hall, Eugenia Boateng, Third & Walnut Co.
---
SATURDAY:
01:00 pm - 04:00 pm
1pm- Doors open
1:15-2pm- Live Entertainment w/Roc & The Collective
2pm- Panel begins
4pm- Event end
Bubbles sponsored by Le Kool Champagne
Small bites sponsored by Swahili Village.