NA Sponsored Spotlight Event
Open Doors Kids
Open Doors Studio Tour
Visual Art
Poetry/Literary
Podcast/Radio
Film
Live Performance
Panel/Webinar
NA Sponsored Spotlight Event
Open Doors Kids
Open Doors Studio Tour
Visual Art
Poetry/Literary
Podcast/Radio
Film
Live Performance
Panel/Webinar
Art Exhibition By Graffiti Artist Raffa "MAL" Invencível
Hosted by Newark Print Shop
Curated by Janetza Miranda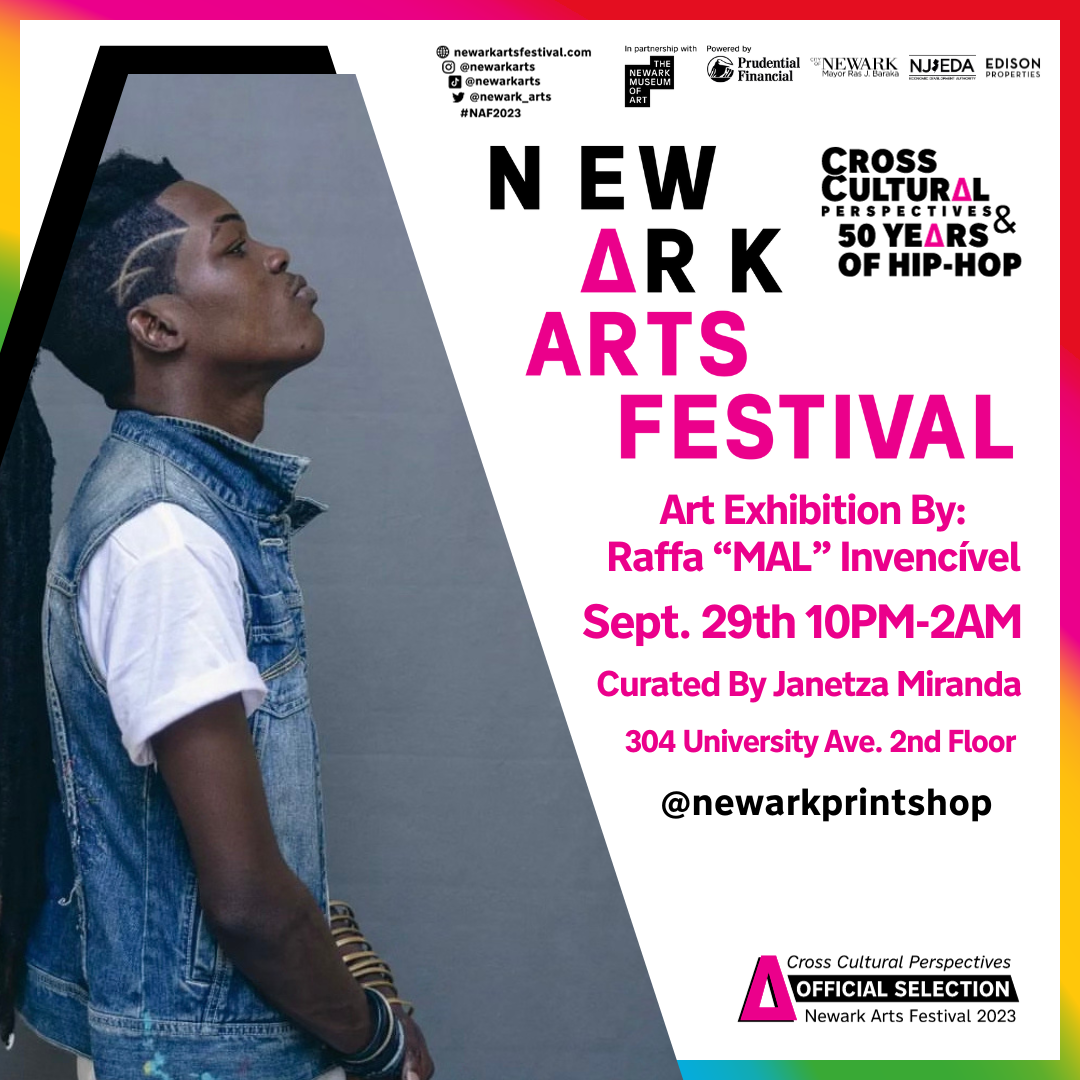 Art Exhibition By Angolan artist, Raffa "MAL" Invencível curated by Janetza Miranda at the Newark Print Shop.
About The Artist
MANUEL ANDRÉ PEDRO (RAFA)
Graffiti Artist, Founder of the MAL Group (Free Art Movement), composed of approximately 20 members. attended the Art School Complex "CEART"
He participated in Pintura da Cerra da Leba, a project launched in 2015 by Brazilian artists, which led to the film Murais da Leba. The documentary "As Cores da Serpente", recorded in Angola and released on the commercial cinema circuit in Brazil. He traveled to Brazil in 2019, where he participated in several artistic activities, the main event of which was the Artistic Conference held by the Brazilian Embassy in Angola.
Featured Artists: Janetza Miranda, MANUEL ANDRÉ PEDRO, Raffa "MAL" Invencível, Newark Print Shop
---
*Covid-19 Protocol: The health and safety of all is our priority. The Newark Print Shop will continue to monitor and abide by guidelines issued by the Centers for Disease Control (CDC), New Jersey, and the City Of Newark for health and safety procedures that inform our operations. Masks are recommended if you have an immune deficiency. If you are unable to visit us in person, please see our website at www.newarkprintshop.org for more information on the wide range of virtual resources, activities, and programs that you can enjoy from home. An inherent risk of exposure to COVID-19 exists in any public space where people are present. We cannot guarantee that you will not be exposed to COVID-19 during your visit. Those visiting NPS do so at their own risk of such exposure.
---
FRIDAY:
10:00 pm - 12:00 am
Art exhibition and after party featuring music by DJs and performing artists.